How to build your child's confidence
November 28th 2023
Ealing Broadway
By


Over the last year, children have suffered immensely with time away from the classroom, little communication with peers and not being able to do the things that they once did, which all contributes to the decline of a child's confidence. Building your child's confidence from a young age is extremely important. It allows them to be able to try new things, able to have a positive mindset and ultimately makes them less fearful of disappointment and failure later on in life.
Want to know how to build some positive confidence in your child? Here are some useful tips to try out if your child is struggling.
1. Praise effort

The old saying goes, 'It's not about winning but the taking part that counts,' and it's true for building a child's confidence. If they don't come first place on sports day it isn't a big deal. Did they finish the race? Did they improve on their position from the previous year? Did they help another classmate finish the race? Praising effort and enforcing the 'taking part' motto enables a child to feel less disappointed if they didn't win, but proud of the effort they achieved.
2. Find their passion

Every child has something they love doing. Whether it's football, drawing, hairstyles or even making funny videos, their passions should be encouraged. If your child loves to create unique hairstyles, how about setting up a home salon so they can try out some new styles? Or if your child has a passion for football, how about signing them up to a local football team for a trial? If they love drawing, take them to a local art museum to show them where their passions could lead to.
3. Try new things

Trying new activities is a great way to boost your child's confidence. It's a chance for them to learn new skills and meet new people, which will all contribute to their confidence. Why not try new team sports like hockey or basketball? Or how about dance and drama classes? Here at KIDZ#1 we have lots of regular classes that can help boost your child's confidence. With all classes in a safe setting, it's a great starting point to build up confidence.

4. Encourage practice

Practice makes perfect and practice builds confidence. If a child knows that the more they practice something the better they will become, they will see the end goal. Encouraging practice shows them not to give up on something and will make them strive to be the best of their ability.

5. Independent problem solving

Although it is important to actively help and support your child, teaching them to be independent is a great way to build their confidence. If they're struggling with their maths homework and trying to work out an equation, let them try to work it out on their own. If they do successfully, they will know they have the ability to problem solve on their own and will continue to do so in the future.


6. Useful feedback

Providing feedback after an activity is important. How could they have done better in their spelling test? How could they have improved in their chess match? What did they do right in their football game? Providing feedback regularly encourages a child to want to get better and shows that you are interested in their activities.

7. Help and support

Helping and supporting your child through their school life and beyond is paramount to helping them build their confidence. Knowing that you are there to help them with their homework or cheering them on the sidelines in a sports game, reinforces their confidence.

8. Get excited about learning

Parents play a huge part in a child's learning and if you show that you are not interested, they will pick up on this and become disinterested themselves. Learning isn't all about big equations and complicated spellings, but try and find fun ways of learning at home. If they're trying to learn a new spelling, why not create funny anagrams or poems to help remember the word? At KIDZ#1, we believe learning and fun should go hand in hand and this is portrayed through every activity, class and sport at KIDZ#1.

9. Set small goals

Small goals are much more achievable than big targets. For instance, if they're learning to ride a bike with stabilisers still on, how about taking them off for ten meters? Or if they're learning to swim have a goal of no armbands by the end of the year? Setting small goals helps them work towards something that they realistically can achieve and will instil confidence much sooner.

10. Be positive

Teaching a child that the glass is always half full instead of empty is a great place to start. If they're disappointed with their results in a test or where they came in a swimming race don't be disappointed too. Instead, focus on how they can improve, provide useful feedback and support them, as it will enable a positive outlook for the future and will not deter them from trying again.
At KIDZ#1 we strive to build a child's confidence from the moment they step through our door. Whether that's through our classes or soft play there is something on offer to reinforce confidence and positivity. Why not take a look at our classes page to see what's coming up?
Want to know more? Get in touch with us!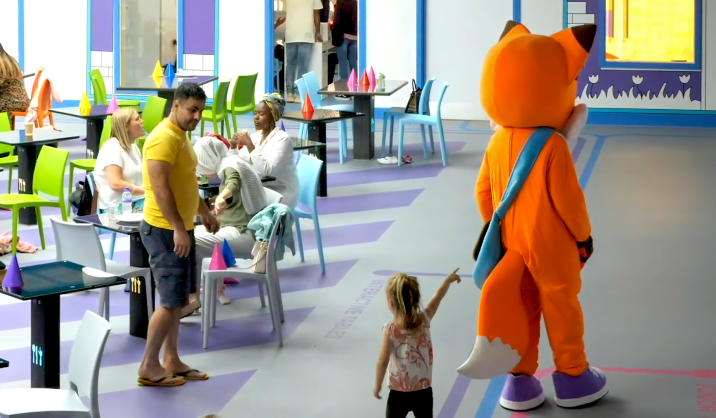 Also read about